3 Important Factors When Deciding Between a "DIY" Kit & a Professional Epoxy Flooring Contractor
1. Clean, Effective Results Require Professional Preparation
A high-quality epoxy garage floor coating requires a great deal of prep work. The typical box store kit will generally only recommend an acid etch solution to prepare the floor for the coating. The acid etches may get the floor clean but will not take care of the sealant and contaminants most concrete garage floors have which will not allow proper adhesion.
Good prep work before the coating is applied is essential for a successful job. At Revel Garage Solutions, our professional preparation process includes:
Proper diamond grinding of the concrete surface creates a "profile" so that the coating can properly bond to concrete (an acid etch in many cases is simply not aggressive enough).
Filling cracks and pits using professional grade materials, to ensure a uniform look when the job is all done.
Testing for moisture vapor emissions and applying moisture mitigating primers prior to application.
2. Store-Bought Epoxy Materials Can Be of a Lower Quality
Without professional experience, it can be hard to identify quality epoxy coating materials, especially considering that the terminology used for epoxy coatings can be confusing. The most common question we see our customers struggling with is whether should they get epoxy paint or an epoxy coating.
The term "epoxy paint" came about when epoxy manufacturers took notice of the terminology that people were using when searching for epoxy coatings. The DIY community was intermixing the term "paint" with "coating". So, a marketing decision was made by many well-known DIY epoxy flooring manufacturers to brand their products as "epoxy paint" to appeal to these consumers. Ultimately, this means when you see something advertised as epoxy paint for your garage, it could be actual paint, or it could be a rebranded epoxy coating. This has in turn led to many people buying a paint product when what they thought they were purchasing was an epoxy product.
Even when you purchase an actual epoxy product, you could still find yourself with sub-par coating materials. The average 'big box store' kit has a very small amount of epoxy in the mix, using a combination referred to as 1-Part epoxy paint because you simply open the can and roll it on your floor. DIY floor coating manufacturers also tend to use a water-based formula because it extends the pot life (pot life is the time you have to work with the coating) and makes it easier for the average consumer to use. Most of the DIY kits that you will find in stores are going to be 50%+ water-based, and once the floor dries, you'll be left with a very thin coating that can take up to a week to cure and will most likely peel up, especially under hot tires, within 12 months.
3. Experienced Professional Application Can Make a Big Difference
Many commercial floor coatings, like our REV-FLAKE formula, contain 100% solids, which makes them harder to apply, but deliver superior results. A professional epoxy floor coating is a two-component product consisting of one part epoxy resin and one part polyamine hardener. The two must be mixed together prior to application, and you are limited by time and temperature as to how long you have to apply it, which means that it's best to have an experienced professional apply it. However, the coating will dry much faster than a store-bought epoxy paint blend, and you could have full use of your garage again within 24 hours.
Revel Garage Solutions has both the experience and know-how to create a pristine place for you and your cars. The goal of our trained staff is to give you a beautiful and durable garage floor done right the first time and something you can be proud of.
When Should I Use Epoxy Flooring For My Garage?
If you're looking for a durable, long-lasting, and affordable solution for your garage floor coating, you should consider using epoxy flooring. Epoxy has gained a lot of popularity over the past few years because it allows homeowners to get a professional finish at an inexpensive price. It's easy to apply, is highly resistant to both chemicals and hot tires and is available in a wide range of colors and finishes, making it easy to create something that suits your unique aesthetic. Ultimately, epoxy flooring can give your garage the perfect combination of style and functionality that will make it feel like an extension of your home.
Before Epoxy Flooring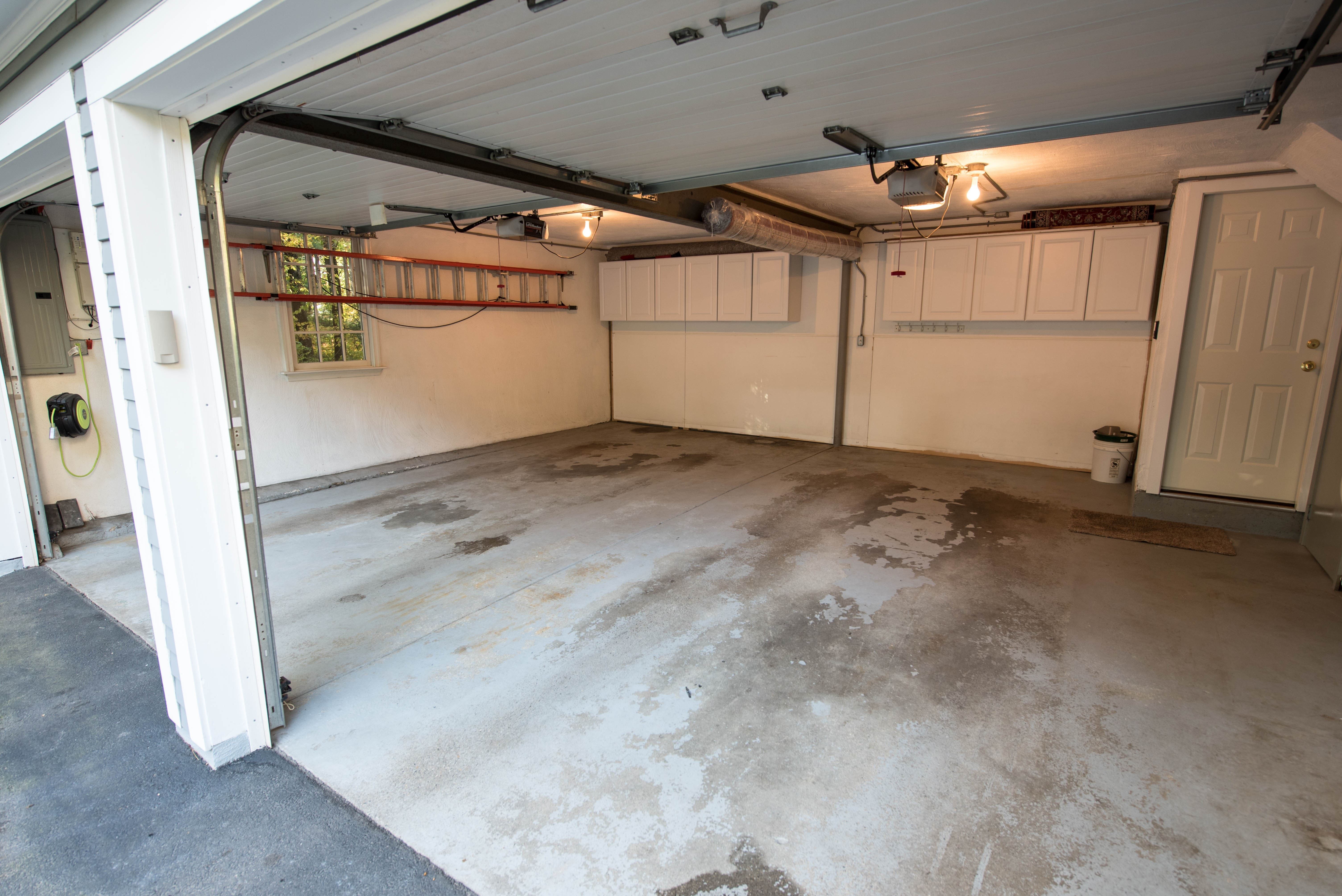 After Epoxy Flooring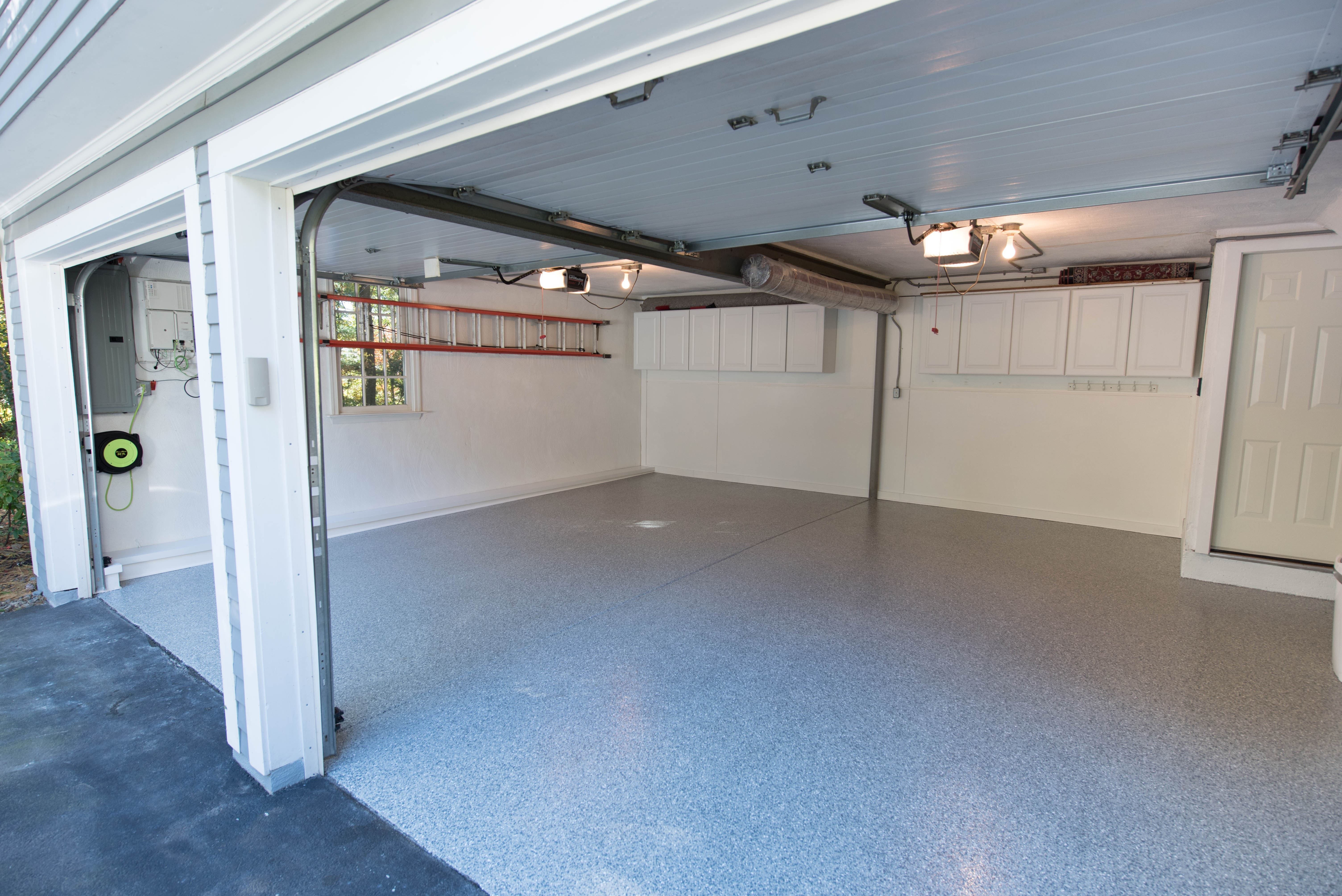 Are you ready to see what Revel Garage can do for your garage floor? Give us a call at (781) 509-0038 to schedule a free, no-obligation in-home consult. Or simply fill out our easy-to-use online contact form and someone will get back to you within 24 hours. If epoxy flooring isn't the right choice for your garage, check out our tile flooring options for more ways to bring your garage to life.