Shelving, Overhead Racks, Hoists, and More
Innovative Storage Solutions for Every Garage in New England
Even when your car is parked inside, your garage should still have plenty of space to move and work in. Eliminate clutter and keep even the heaviest, bulkiest items out of your way with the vast array of overhead racks, shelves, and hoists available from our garage organization specialists at Revel Garage Solutions. Our customized storage solutions are designed exclusively for garages, giving them the durability and functionality necessary to fit your unique needs and keep you organized.
Consult with our team today by calling (781) 509-0038 – we provide free quotes!
Specialty Products Designed with You in Mind
No two garages are alike, and every garage contains a different array of tools, possessions, and equipment. That's why our team tailor-makes our hoists, shelves, and overhead storage modules to meet the needs of each individual customer. Our storage systems are all one-of-a-kind, just like your garage, so that everything you need to complete your projects or maintain your home is right at your fingertips.
Keep Things Dry and Organized
Other garage storage manufacturers may simply take standard kitchen cabinets and shelves, add a layer of waterproofing, and call it a day, but at Revel Garage Solutions, we believe in going the extra mile to deliver true quality and durability. Our racks, shelves, hoists, and other garage storage solutions are all designed exclusively for garages, with superior waterproofing built-in. Even when harsh weather hits your garage, you can count on our products to keep everything you care about elevated, dry, and secure.
Our Products can Help You Store:
Bicycles
Removable jeep or convertible tops
Seasonal decorations
Kayaks, canoes, and other equipment
And more!
Expert Products, Expert Installers
It's not enough to have the best products around – we also enlist a team of experienced, professionally-trained installers to ensure that every rack, shelf, or hoist we sell is installed safely and correctly. Our installers know exactly what it takes to install load-bearing shelves, storage, and racks for maximum durability, and we always work closely with you to ensure that everything is in the correct place. Let us handle installation, so all you have to do is enjoy your newly transformed garage.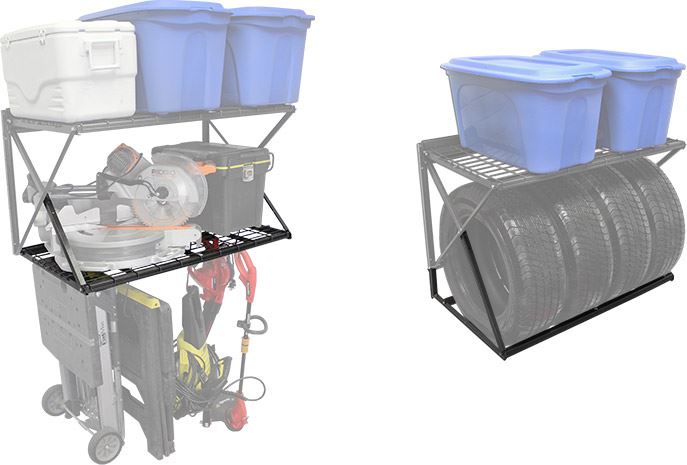 Start giving life to your garage with hoists, overhead racks, and shelving units from our Boston garage storage specialists – call (781) 509-0038 or contact us online today!